Leeds Playhouse showcases compassion as part of a week of activity for Refugee Week
13 Jun 2023
Monday 19 June is a big day for us at Leeds Playhouse as it marks the start of Refugee Week, a nationally recognised campaign highlighting the ways in which we can all stand in solidarity with refugees and people seeking asylum.
The national theme this year is compassion, and we'll be sharing a week of FREE activities to express our compassion for the wonderful people we welcome each week as a Theatre of Sanctuary.
Ways you can get involved from the Refugee Council.
Throughout the week, we encourage you to share your Orange Hearts at home, in your community and here at the Playhouse, where we will be displaying them on our Tree of Compassion in our Playhouse Kitchen to show we stand together with refugees and people seeking asylum.
We also have an incredible, heart-warming exhibition for you to experience from Leeds City of Sanctuary.
Day by Day Activity
Monday
We are honoured to host the Leeds City of Sanctuary relaunch. We have been a member of this diverse network for a number of years which brings together organisations from across the region who actively work with people with lived experience to advise and provide a programme of activity to welcome, support and celebrate people who are seeking sanctuary.
The evening will include music, talks, presentations and delicious hot international food cooked by Diana and a of volunteers From Bolivia with Love.
Location: level 2, Playhouse Kitchen
Time: 5pm – 7.30pm
Cost: Free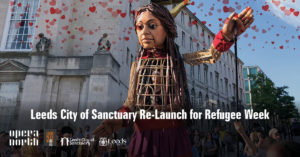 Tuesday
Day 2 of Refugee Week 2023 will see us host a MEGA CONVERSATION CAFÉ! And yes, we are that excited. Join us from 11am – 1pm as we chat about ways in which we can all encourage compassion on our doorstep.
We are handing over our Playhouse Kitchen to people from our Conversation Café who will be cooking up delicious treats from their own countries to share with us.
We will also welcome members of the Prince's Trust who will be running free, fun craft activities, be entertained by musicians and enjoy a host of games.
Location: level 2, Playhouse Kitchen
Time: 11am – 1pm
Cost: Free
Wednesday
Heydays, our long-standing programme for older people, will be having a refugee awareness session led by Leeds City of Sanctuary, showing no matter your age there is always time to enrich your knowledge and understanding.
Later, our Hearts youth group will be marking Refugee Week in their weekly session looking at the theme of compassion. Hearts is a partnership project with the Children's Society and Solace, designed for young people seeking asylum and refugees aged 15-25.
The project offers a weekly drop-in session with activities including creative arts, social time, life skills and advocacy support from a Children's Society key worker and health and wellbeing activities with a Solace therapist.
The team works with the young people to identify activities and subjects they want to explore, leading to a bespoke programme each term.
Friday
Today we are celebrating with our Wonderful Woman of the World Event from 12.30 – 3pm supported by the Refugee Council. It's time to get your vocal cords warmed up and join us at 1pm for a sing-a-long with our Asmarina Voices choir.
As part of the day, we are running a free clothes swap and will have rails of clothing to give away. We also will have free beauty treatments on offer from Leeds City College.
Location: Level 2, Leeds Playhouse
Time 12.30pm – 3pm
**Asmarina Sing-a-long at 1pm**
Cost: Free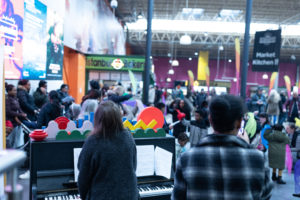 Saturday
Mafwa Theatre will be sharing excerpts of their new production, Michka & Me, a family show suitable for ages 5+, with additional interactive sessions in the Bramall Rock Void.
For more information click below